Bridge of Birds, by Barry Hughart
pub 1984; Winner, World Fantasy Award
Review by Jenn

I feel a little bit hesitant to say too much about this one for two reasons: one, I'm hoping Barry can be our next recipient of our Author of the Millenium award; two, I don't want to spoil this wonderful story for anyone who hasn't read it. Tim sent it to me for my twenty-second birthday, I think, and when I came back to my dorm room at Penn State one day to open the package on my bed, I had no clue that the small paperback inside would prove to be one of the best books I'd read for a long, long time. A delightful tale, very humorous, touching, and written with considerable skill and wit, unencumbered by ponderous morals or cryptic messages, this book is "just a story," for pure pleasure. Hughart followed this creation up with two sequels which we'll tackle at a later time. Both sequels are tributes to his skill in creating a complex plot line and his care in tying all the loose ends together, though they don't quite come up to this, his first. The author hasn't turned out any novels since 1990 (I for one hope he gets going again, as I can use some new reading material!).
Bridge of Birds is subtitled as A Novel of an Ancient China That Never Was. It reads simply and almost modernly; that is, the dialogue is modern in nature with the author disdaining to write the English in the style of "direct translation" (a la Pearl Buck, whom I'm not dissing, BTW - Tim may not like her, but I do). The author's descriptions are gloriously vivid, and much of the prose flows along lyrically like poetry, in places employing poetic devices or "word music."
Bridge of Birds begins with the children of the seventh-century Chinese village of Ku-fu falling prey to a strange plague. One of the villagers, Lu Yu (usually called Number Ten Ox), is sent by the village elders to Peking to find a sage who can help cure the children. Due to lack of funds, Number Ten Ox has a difficult time finding a sage, until he stumbles across Master Li Kao, a self-described scholar with a slight flaw in his character. Li Kao agrees to look into the case despite the small retainer. When he visits Ku-fu, he quickly diagnoses the problem. The remainder of the novel proceeds in a very episodic nature as Number Ten Ox and Li Kao track down the various requirements for a cure.
Number Ten Ox and Li Kao use wiles, deceit, and occasionally Number Ten Ox's strength to attain the objects of their quests. Each quest involves the two in tall tales, seemingly unrelated to everything which has happened before, although the two adventurers keep returning to Ku-fu to see if their latest cure will work.
Eventually, Hughart does tie all the episodes together in a masterful way which will send the reader back through the book to find clues to the ultimate conclusion. Hughart was careful to leave a trail of clues throughout the book which leads to the denouement, although few of them are obvious until the solution is revealed.
The book is filled with Chinese myth, legend, and historical fancies. These stories play an important part in giving clues to the novel's ultimate solution while adding a depth to the narrative. Their verisimilitude demonstrates the care with which Hughart studied actual Chinese folklore and history before he began to write this novel.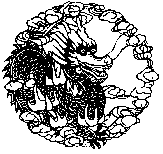 Barry Hughart's Master Li Novels
Unfortunately, Jerry Kuntz's very entertaining website for Barry Hughart is gone. This site contains a lot of the material from the original site, including Kuntz's interview with Hughart and an early draft of Bridge of Birds, reprinted with the author's permission. In this version Master Li is 19 years old, and Ox only appears briefly as a village idiot. The draft includes episodes from the later novels.