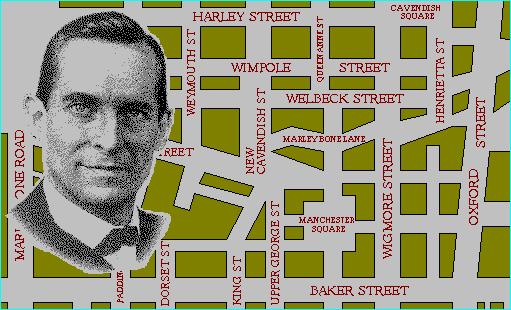 Granada Television's "Sherlock Holmes Mysteries" - series/films
Review by Jenn
We often erroneously credit snappy sayings, cliched lines, and clever remarks to the wrong people (see Tim's review of The Devil's Dictionary by Ambrose Bierce), or distort words said by some of our favorite actors and characters into something else. For instance, Humphrey Bogart never did say "Play it again, Sam." Nor did Carey Grant ever say "Judy, Judy, Judy!," just as James Cagney didn't say "You dirty rat." And Sherlock Holmes never said, "Elementary, my dear Watson!"
At least, he didn't anywhere in the text of the classic mystery series penned by Sir Arthur Conan Doyle, and it is from the famous series that this excellent British television production was so meticulously drawn.
If you ask, most folks would probably tell you that the actor Basil Rathbone, who played the famous sleuth in feature films and radio dramas throughout the forties and early fifties, is their idea of the quintessential Sherlock Holmes. Not to undermine Mr. Rathbone's fine performances, but to me, Jeremy Brett, the star of the 1983-1994 series, is the figure who comes to my mind's eye, and the voice in my mind's ear, when I am reading the original tales - he is Sherlock Holmes. Born Peter Jeremy William Huggins, Brett had a long and distinguished career both in films (one of which featured a minor role with a song number in My Fair Lady) and onstage; but he is probably best known for his portrayal of the brilliant but high-strung 19th century detective.
Like the short-story volumes, the show was produced in separate series: The Adventures of Sherlock Holmes, The Casebook of Sherlock Holmes, and The Memoirs of Sherlock Holmes. A couple of the novels were full-length movies, and were probably originally shown as specials or two-parters. The storylines come primarily from the original text, though in some cases the titles were altered - watch the opening credits to catch which episodes came from which short stories. Sadly, not all of the stories and novels were re-created; nor are they likely to be by Granada, as actor Jeremy Brett, after a number of years of ill health, died in his sleep of heart failure back in September of 1995. He was 62 years old - the same age, incidentally, as was Doyle's master sleuth when the author finally had him retire for good..
Reading Arthur Conan Doyle's detective stories is an enjoyable pastime, but I must admit I find watching the show to be even more pleasurable. The straightforward dialogue is lifted almost word for word, and in addition is fleshed-out and enhanced by the fine acting. Because quite a number of the stories when acted out don't take up a full hour, some by-play is added, as well as beautifully-crafted scenes, many of which re-create the crimes and set up the dialogue - Doyle does a great job of telling in his works, but the productions both show and tell.
Brett's Holmes is a marvel, while David Burke (Adventures)and later Edward Hardwicke, especially (Casebook and Memoirs), give sturdy performances as Holmes' stalwart friend, colleague, and foil, Dr. John Watson. Both actors, thankfully, chose to play the good doctor more as Doyle wrote him - steady, sensible, and with just a trace of cynicism - and not as Rathbone's co-star chose to play him, which was as a somewhat doddering and talkative elderly chap. The character of Holmes was written into the scripts in all its wonderful brilliance and neurotic idiosyncrasies, including his passion for playing the violin, disdain of women in general, and dislike of hand-shaking - nor did the program shy away from the detective's occasional drug use.
In addition, none of our favorite characters are neglected, and Mrs. Hudson, Inspector LaStrade, Mycroft Holmes and of course, Professor Moriarty, make their appearances, some more regularly than others. No doubt for ease in filming and constancy's sake, some characters are left out (Watson, you may remember from the books, eventually married - twice, as it so happened).
Notwithstanding the fine acting, the detailed and carefully constructed sets and props lend to the authenticity and richness of the series every bit as much. Granada's Victorian-era Baker Street set was apparently a famous attraction before it was dismantled, and thus far in my dedicated watching I have not seen any props which did not seem to belong. Take note of some of Holmes' beautiful pipes, Watson's medical instruments, and Holmes' silver-topped walking stick which we learn in one episode contains a thin, rapier-like sword.
You may have a hard time finding this one. It has only been very recently that British TV has begun to join the rest of the world in a slow slide away from thoughtful, well-crafted drama into "junk food for the brain" fluff and the Sherlock Holmes Mysteries were untouched by the new trend - naturally, this means you're only going to find them aired on either A&E or PBS. Your best bet is the Arts and Entertainment Network (A&E), which airs a mystery hour weeknights at 10PM EST - follow the A&E link at the end of this article for the current schedule. If you don't have cable, then you're going to have to keep an eye on the PBS series Mystery!, which airs a Holmes episode every so often, or check out your local library, which may carry tapes (our main library in Huntsville did). You can also purchase Holmes tapes through A&E, but be warned - these are generally sold in a four-volume boxed-set at $80.00 a pop. Quality is often expensive.
The Brettish Empire
Lisa Oldham's page, dedicated to actor Jeremy Brett.
An Episode Guide to Granada's Sherlock Holmes
Kathy Li's guide to Granada Television's Sherlock Holmes Mysteries.
The 221B Baker Street Page
Michael Sherman's page on Sherlock Holmes, containing links to all of the Holmes adventures that are no longer protected by copyright.
Sherlock Holmes Listings on A&E
This month's listings for Granada's Sherlock Holmes Mysteries on the A&E channel.