Antar & the Little Russian
Antar composed by Nikolai Rimsky-Korsakov
Little Russian composed by Peter Ilyich Tchaikovsky
Performed by the Pittsburgh Symphony Orchestra, 1986, TELARC
Conducted by Lorin Maazel

Review by Tim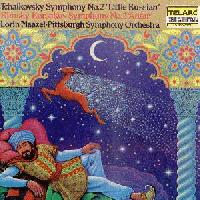 This recording includes the second symphonies of two of Russia's greatest composers, representing two distinct, ideological approaches to music. Tchaikovsky was steeped in the western European tradition of music, while Rimsky-Korsakov's path to musical education was far less formal. This was by design, for Rimsky was a member of a group of five stormy petrels of Russian music (the others were Mussorgsky, Borodin, Cui, and Balakirev; the so-called "mighty handful"), whose aim was to create a distinctly Russian style of music, "untainted" by foreign traditions and ideas. While Rimsky eventually became as learned as any in the intricacies of the western European art tradition, this was his starting point.
Rimsky-Korsakov is most famous for his symphonic suite Scheherazade, based on the folk tales of the Arabian Nights. And yet, 21 years earlier, fresh from an extended tour abroad as a naval cadet, Rimsky finished a symphony based on another Arabian legend, that of the warrior-poet Antar.
The symphony begins with a slow, weary music meant to be reflective of Antar's mood, as he journeys into the desert to escape the venality and corruption of human society. Antar's theme is introduced on the violas, a melody reflective of sensitivity and personal strength (yeah, all right, maybe I'm reading too much into it; got a problem with that?). This theme recurs throughout the symphony, on strings or on horns, depending on the subject matter. Antar wanders into the ruins of Palmyra by night, and suddenly there is magic! A beautiful gazelle appears (flute, with grace notes from the harp), pursued by a great bird of prey (a menacing theme on strings). Antar chases the bird away, upon which the gazelle disappears. The image of the gazelle's grace still haunting him, he disposes himself for slumber.
In his dreams, Antar finds himself in the palace of Gul-Nazar, the fairy queen of Palmyra. It was the fairy queen, wearing the form of the gazelle, that Antar had saved, and she is grateful. She grants him the boons of a full life: vengeance on his enemies, power, and love. Antar awakens to a world still venal and corrupt, but he is refreshed as he returns to civilization, his theme swelling with confidence and vigor. The remaining three movements of the symphony deal in turn with each of the fairy queen's boons.
I originally purchased this recording for Antar, rather than for any desire to hear Tchaikovsky's music. I was much taken with Rimsky's Scheherazade, and for a while was hunting up as much of his music as I could lay my hands on. The fact that the Little Russian symphony was a bold, fiery, and utterly moving piece of music was an unexpected bonus.
Tchaikovsky wrote the Little Russian symphony while on holiday, visiting with his sister in the Ukraine. "Little Russia" was tsarist Russia's way of referring to the Ukraine, and it is this term that gives the symphony its name. The symphony begins with a slow variation of a folk song, "Down by Mother Volga". Tchaikovsky works his way through several variations on this melody, while here and there dropping a more delicate, contrasting theme into the mix. The second movement is based on a wedding march from Tchaikovsky's opera Undine, most of which he had destroyed. The third movement is an energetic Scherzo, while the fourth returns to Ukranian folk music for inspiration.
Tchaikovsky's use of Ukranian folk music presents a rather interesting paradox in the musical choices for this recording. For Antar, Rimsky-Korsakov draws on melodies from a French collection of Algerian music, and the Arabian flavor of some of the musical phrasing is apparent. By contrast, Tchaikovsky's Little Russian symphony seems far more "Russian" in character, despite the fact that it was Rimsky-Korsakov and his colleagues who were consciously trying to create a Russian musical tradition, emancipated from foreign influences!
I tend to buy a lot of classical music blind (or should I say "deaf"?), never having heard it performed. This is an uncertain method, resulting in my ownership of more than a few recordings to which I rarely listen. Still, the method does result in some very pleasant surprises, and this recording was one of them.