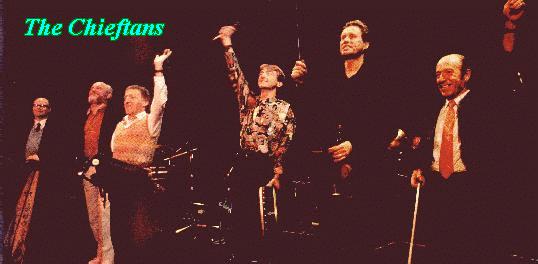 Introduction
In 1989, almost 27 years after their founding, The Chieftans were appointed official musical ambassadors for Ireland by the Irish Republic. It was the highest official honor ever accorded a musical group, and it was well merited. The group has taken Irish music all over the world, from the Royal Albert Hall to the Great Wall of China. They furnished my first clue that there was much more to Irish music than "Danny Boy" or overalls-contaminated chowder.
Origin of The Chieftans
Many of The Chieftans, including the group's founder, Paddy Moloney, grew up at a time when traditional music was not very well regarded. Young musicians were more interested in jazz or rock-and-roll than in reels or jigs, and promoters of "serious" music would have just as soon forgotten there was ever such a thing as Irish music. The "relicts" hung in there, however, and by the late 1950's things started to change.
The watershed came in late 1959, with composer Sean Ó Riada's score for a documentary about the Irish War for Independence (Mise Éire). Riada had arranged traditional Irish airs for the film, adapting them to a full symphony orchestra, with such outstanding effect that the soundtrack caused a sensation. People started paying attention to Irish music, and Riada used his success to keep Irish traditional music in front of as broad an audience as possible. He formed a group he called Ceoltóirí Cualann (The Musicians of Cualann), which he directed on a weekly live radio show. Among the musicians he employed were future Chieftans Paddy Moloney, Martin Fay, and Sean Keane.
At the same time as Riada was putting together the score for Mise Éire, Claddagh Records was born. Gaerech Browne, one of the Guiness heirs, started the company, with the express purpose of recording Irish music. Claddagh's first recording featured the piping of Moloney's music instructor, Leo Rowsome. This generated some enthusiasm, and led to further releases from Claddagh. In 1962 Browne asked Moloney to form a group and pick some tunes for a new recording (Browne and Moloney were friends of long standing, having met through their mutual love of traditional music). A director at Claddagh suggested the name "The Chieftans", and that was how the group was born.
Members of The Chieftans, Then and Now
Group Pictures
1976
1994
| Name | Primary Instruments | Tenure | First Recording with The Chieftans |
| --- | --- | --- | --- |
| Paddy Moloney | uillean pipes, tin whistle | 1962-present | The Chieftans (1963) |
| Michael Tubridy | flute, concertina, tin whistle | 1962-1979 | The Chieftans (1963) |
| Sean Potts | tin whistle | 1962-1979* | The Chieftans (1963) |
| Martin Fay | fiddle | 1962-present* | The Chieftans (1963) |
| David Fallon | bodhrán | 1962-1965 | The Chieftans (1963) |
| Peader Mercier | bodhrán | 1966-1976 | The Chieftans 2 (1969) |
| Sean Keane | fiddle | 1968-present | The Chieftans 2 (1969) |
| Derek Bell | harp, tiompán, keyboards | 1972-present | The Chieftans 4 (1974) |
| Kevin Conneff | bodhrán, vocals | 1976-present | Bonaparte's Retreat (1976) |
| Matt Molloy | flute | 1979-present | Boil the Breakfast Early (1979) |
*Sean Potts and Martin Fay left the group early in 1968 to play with Gael Linn; both returned to the group by the end of the year.
The Music
There are a lot of fine musicians out there playing traditional Celtic music, and more up-and-coming every day, but The Chieftans are where it all starts. Their performance is flawless, and their arrangements are consistently interesting and evocative. Some of Moloney's original compositions and arrangements, such as "Sea Image" and "Bonaparte's Retreat", deserve to be classed as tone poems or symphonies.
Purists often carp about The Chieftan's treatment of some traditional material, or accuse them of selling-out because of their commercial success. Well, to descend briefly into cliché, you can't please everyone. I've noted elsewhere in these pages that Irish music is a living tradition, not a fossil. The traditional style has a lot of room in it, and none have been more successful in demonstrating this than The Chieftans. As for their commercial success, as long as they continue to produce fine music, I'm not going to worry over it.
Tim Eagen
January, 2001
This page has been requested .