Metropolis
Recorded by the Turtle Island String Quartet, 1989, Windham Hill

Review by Tim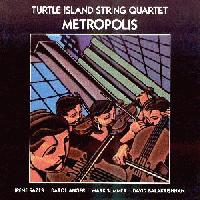 TISQ's second recording features arrangements of five jazz standards with five pieces written for the string quartet, four of these by members of the group.
The first two selections on this recording swing pretty hard. "Jaco" is Darol Anger's arrangement of a piece by contemporary jazz guitarist Pat Metheny. It opens like a barn-dance fiddle number, then proceeds into a number of melodic variations. This is followed by David Balakrishnan's arrangement of pianist Duke Pearson's "Jeannine". Pearson's work was influenced greatly by swing bands, as this piece shows.
The third piece shifts the mood into a more meditative channel, with Balakrishnan's arrangement of sax-man John Coltrane's trademark classic "Naima". This is followed by a free-form piece composed by Balakrishnan; "Mr Bumbles" opens with short, scattered, almost random passages, sounding like an old rag-man muttering to himself (couldn't help myself - I was continually reminded of Bill Cosby's classic shtick about two winos talking on a subway car).
"Four on the Floor" is melodic and mysterious, and brought to my mind images of an oriental bazaar by moonlight, with white robed figures slipping through the shadows. It was written for string quartet by Bruce Williamson (not a member of TISQ), and features Steve Smith on bass drum. The addition of the drum in this piece freed the members of the group from the task of keeping the beat, and so the percussive effects used in the other selections are here absent.
Lee Morgan's "Sidewinder", arranged by Irene Sazer, is my favorite selection on this recording. The piece is very snaky, just like its title, and introduced me to what has become one of my favorite jazz bands - the Lee Morgan Quintet. The music irresistibly gave me the image of a sidewinder undulating across rippled sand, although I later learned that this was not what Morgan himself saw in the music:
"The tune put me in mind of the sidewinder - you know, the 'bad guy' on television. There's a snake called the sidewinder, but I was thinking of the bad guy."
I thought that over, and decided it was three pairs of one, and a half dozen of the other.

"Sunny August Full of Moon" is a reflective, free-form piece composed by Sazer and Balakrishnan. Towards the end it breaks briefly into a melodic, optimistic theme, before returning to a more meditative line.

"Ecaroh" is a composition by hard-bop pioneer Horace Silver, one of the co-founders of the legendary Jazz Messengers. The arrangement is by Balakrishnan.

"Julie-O" is a very pretty solo cello piece composed by Mark Summer, and has become a standard in the violoncello repertoire. Summer alternates plucking and bowing techniques with wonderful effect.

"Street Stuff", composed by Darol Anger, has a definite bluegrass feel about it. In several places the beat is kept with rhythmic hand-clapping. At the end, a barking dog can be heard as the strings shiver through a rising crescendo.

The musicians of TISQ for this recording are:

David Balakrishnan: violin
Darol Anger: violin, low violin
Irene Sazer: viola, violin
Mark Summer: cello

May, 2000