Shepherd Moons
Recorded by Enya, 1991, EMI Songs Ltd. BMI
Review by Jenn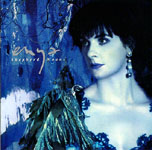 Shepherd Moons has nice associations for me. It is the first of the two albums by Enya I had ever listened to, given to me by Steve back in our courtin' days. Like Watermark, this album features Enya's skillful use of multi-layer vocals, Latin and Gaelic as well as English, and a variety of instruments old and new. It differs in its mood, which is calmer and more serene.
We all "see" different things when we hear music; what the composer was feeling when he or she wrote the piece might not necessarily be what the listener hears. Knowing what the composer has in mind before hearing the music sometimes lends a hand, but it wasn't until later that I learned that "Shepherd Moons" refers to a discovery of two small moons in orbit around one of Saturn's rings. This discovery was made by Voyager before the album's release. The particles which made up this particular ring appeared to be "herded" together by the two little moons. Thus the name, "Shepherd Moons." This instrumental piece (which does feature Enya's haunting soprano vocals) serves as a prelude or overture to the rest of the album, which is more contemplative and reflective than Watermark. "Shepherd Moons" launches this mood with an audio vision, if you will, of the majestic, brilliant, and silent image of space - a silence that is undisturbed by the music.
I am currently working on a story in which the endangered species of pink dolphins, which live off Hong Kong, figure prominently. I saw a special on these creatures featured on the NBC newsmagazine, Dateline. The segment ran with Enya's "Caribbean Blue" playing in the background, which I recognized instantly. This song carries a more up-beat tempo and is easy to get into with its repetitiveness. Roma Ryan states that the Latin words refer to directional African winds, and the song is intended to be dreamy, which I feel was pulled off successfully.
The third track, "How Can I Keep From Singing?," is a beautiful rendition of an old Shaker hymn. Enya's voice is in the forefront here, with an organ-toned keyboard in the background. This song was included partly as a tribute to the fact that, in 1846, the Shakers sent food to Ireland in an effort to help relieve the devastating effects of the Great Famine.
The origin of "Ebudae" is best described by Roma Ryan in her foreword:
"I had come across Ebudæ in Ariosto's classic tale of Orlando Furioso, the island thought to be intended as one of the Hebrides, referred to as the Dreadful Isle or the Isle Of Tears. I had fallen in love with the name, and when sometime later I was browsing through an old book of ancient maps, I was delighted to find Ebudæ actually recorded and in this original form! The title of the song 'Ebudæ' and the lyrics concern themselves with ancient sounds.

There are two 'voices' which work their way through the piece. The first voice concerns itself with the story - which is loosely based on the tradition of women weaving and chanting to the rhythm of their work. The second voice is a mixture of sounds and fragments of sounds half-invented, half-remembered from childhood. As is often the case, what one actually hears and what one thinks one hears can be two very different things. With this rhythmic section we try to capture those impressions."
The song has a very rhythmic drumbeat which sounds almost tribal or ceremonial in nature; Nicky Ryan and Enya performed the percussions.

"Angelus" expresses a yearning belief, or need to believe, in a guardian angel at one's shoulder, ready to lend a hand on the dark days. The skillful clarinet solo is credited to Roy Jewitt. It is a lovely song, soothing and made more so by Enya's use of synthesizer and multi-layer vocalizing.

"No Holly For Miss Quinn" is a beautiful instrumental piano piece. It is a "partner" piece to "Miss Clare Remembers" from the Watermark album. Both of these songs are inspired by the Miss Read novels, and are meant to reflect the slow charm of life in a country village. I imagine it's pulled off pretty well, though I've never read these books (which are a favorite of my sister Kathy; however, the librarian commented on Kathy's taste in "old lady books" once while my sister was checking them out!). My own association with this song hearkens back to the same segment on pink dolphins on Dateline; this tune was played at the end of the segment.

For a reason I cannot begin to guess at, the lyrics to "Book of Days," one of my favorite songs on the album, was not included in the liner notes. Instead there appears a short passage in Gaelic, the translation of which can be found (along with the lyrics, I was happy to note) on the Enya - Translations and Lyrics home page. It is a song heroic in nature, and gives tribute to the failures and glories of the past as it looks forward to the future with expectation. The liner notes credit Andy Duncan for the percussions. The song was featured in the movie Far and Away starring Tom Cruise (never saw it, so I can't tell you about it).

"Evacuee" is based on the story of a World War II refugee, forced to leave home and family for her own safety. It begins with a vocal refrain like a child might hum, then a sound effect of thunder and falling rain, then moves into the yearning, vaguely bewildered words of a child who does not quite understand why she must be sent away. The impression is that of the girl gazing out her window at the rain, far from home). A beautiful cornet solo is provided by Steve Sidwell (I think a cornet is a kind of trumpet).

"Lothlorien" is another keyboard instrumental, and a very lovely one at that. You cannot go too wrong with Tolkien for inspiration, and this theme does the enchanted land from The Lord of the Rings trilogy proud (Tim and I are fully aware that we should both be shot dead for our tardiness in giving tribute to Tolkien anywhere on the page).

"Marble Halls" both begins and ends with the same childlike refrain that began "Evacuee." The tempo is slow here, like a waltz from a music box. I can't imagine how difficult it must be to sustain such high notes for such a length of time, and Enya pulls it off pretty well. The song makes good use of piano and synthesizers. Roma Ryan's comments from the foreword:
['Marble Halls' was] an operatic piece originally scored by the Irish composer and baritone, Michael William Balfe (1808-1870). 'Marble Halls', or 'The Dream' as it is also known, is from his 1843 opera The Bohemian Girl , which enjoyed great success during his lifetime. Balfe was once complimented by Strauss as being the Master of Melody. The Bohemian Girl, and in particular this song, is a favourite of both Enya and her mother."
Regarding Afer Ventus--you need to go to the Enya - Translations and Lyrics page both for the translation of the song from Latin to English and for the comments on the Greek and Roman mythology to which it refers. The song describes those moments in our lives when we are fortunate to hit enlightenment, a fleeting time when everything makes complete sense (I could use another such epiphany!). The lyrics include running lyrics sung simultaneously.

"Smaointe" (the word means "thoughts"), sung entirely in Gaelic, is a moving tribute from Enya to her grandparents. Perhaps "tribute" is the wrong word here - the tone of the song reflects what I often feel when thinking of my own grandparents; that is, fond memories and nostalgia, but never without a tinge of sadness that they are gone. Liam O'Flionn is a wonderful addition with his solo on the uillean pipes.

January 2000