Dúlamán
Recorded by Clannad, 1988, Shanachie Records
Review by Tim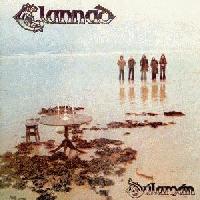 This is one of Clannad's traditional music recordings. The liner notes include a brief paragraph on each of the songs and instrumentals.
Dúlamán is both the name of the recording and the title of the first song. The word is Irish Gaelic for "seaweed". In Ireland certain men made their livings by collecting and selling different types of seaweed, and were frequently nicknamed for the particular types in which they dealt. Dúlamán gaelach is a seaweed used in dying cloth, while dúlamán maorach is an edible variety. The song, sung by the band in Gaelic, records a conversation between two seaweed collectors. Dúlamán Gaelach has a beautiful daughter whom Dúlamán Maorach wishes to marry. Gaelach is not exactly thrilled with the idea of having Maorach as a son-in-law, but Maorach elopes with his daughter anyway.
Owen Roe O'Neill (Eoghan Ruadh O'Neill) was the great military leader of the Irish rebellion of the 1640's, and was the rebels' best hope of independence. He was a first-rate tactician, and had learned his trade both at home and on the continent. Shortly after Cromwell personally invaded Ireland, O'Neill died of a sudden illness (1649). Whether or not he could have defeated the vastly superior forces brought to Ireland by Cromwell, the British leader's subsequent savagery has led the Irish to lament O'Neill's loss ever since, and has inspired numerous laments. The second track is a melancholy instrumental version of one of these1.
"Two Sisters"2 is an old folk song that exists in English in many versions. The gist of this version is the rivalry of two sisters for the attentions of a young man, who prefers the company of the younger sister. The elder sister takes adavantage of an opportunity to rid herself of her rival by pushing her into a river. The miller's son rescues her long enough to steal the girl's ring, then pushes her back into the river. Both the miller's son and the elder sister are apprehended and executed for their crime. Máire Brennan sings the first verse a cappella, and the succeeding verses to accompaniment.
Vain love is a common theme of traditional music from Ireland. "Éirigh Suas A Stóirín" ("Rise Up, My Darling"3) tells the story of a young man who goes to bargain with the parents of a girl he loves for her hand, as was the custom in the poorer parts of Ireland. He is refused, and the remainder of the song tells of his sorrow at this loss. Sung in Gaelic by Máire Brennan.
"The Galtee Hunt" is a lively dance tune. The group begins with the flute and harp, then later adds guitar and bass.
"Éirigh Is Cuir Ort Do Chuid Éadaigh" ("Arise and Dress Yourself"4) is, according to the liner notes:
Another Donegal love song where the composer longs desperately to elope with his loved one to a place where he is surrounded only by nature's undisturbed beauty.
Well, yes and no. I found the lyrics to this tune in an old book of folk songs, and the version sung by Clannad is somewhat altered. Specifically, they sing only the first two verses. In its entirety, this is a folk song about a young man who did not marry the girl he loved in his youth, but instead married an older woman with considerable property. Now he bitterly regrets the choice he has made. The young man dreams one night that his former love visits him, and urges him to elope with her - the first two verses are her words. The remainder of the song is the young man's lament for his decision: he disparages his wife rather cruelly, and blames his family for the advice that led him to the match. He resolves at last to leave his wife and find a younger girl. Sung in Gaelic by Máire Brennan. The group has inserted an instrumental bridge of variations on the tune.
"Siúil A Rún" ("Come, Oh Love"5) is the lament of a young woman who pines for her absent lover. The song comes from the time of the Flight of the Wild Geese; that is, the Irish Brigade, composed of young men who left Ireland following the Williamite War to serve in the French Army, during the years 1691 to 1745. Sung in English by Máire Brennan, with a Gaelic chorus.
Of the background of the remaining selections on this recording, I know little save for what was written in the liner notes: "Mo Mháire" celebrates the beauty of a girl named Máire, and for this reason perhaps appealed to the band's sense of whimsy. "dTigeas A Damhsa" is a children's dance song sung a cappella in Gaelic by Máire Brennan and one of the men. The last selection is two instrumental pieces bridged by a Gaelic phrase sung by the group; "Cucanandy" is a slip jig, and is followed by "The Jug of Brown Ale".
---
1 Lament to Owen Roe O'Neill
(English Translation)

While the band does not actually sing the lament,
I have provided this translation for a bit of flavor.

The Gaelic race, alas, no leader owns,
The seed of Niall and Eibhear helpless moans,
The face of Eire now is dark with woe;
And fallen her pride, when died great Owen Roe!

All Erin lies in grief, from Boyne to Moy,
From Lene-Loch's shore to Nore, they know no joy,
From Moy to Leim and Erne, the dread word goes,
"No blade nor shield succeeds to Owen Roe's."

'Tis cold each day the piercing north-wind blows,
The sun no ray of cheering brightness shows,
The storm doth rage, and still doth fiercer grow,
All earth grows pale, since death claimed Owen Roe.

In church-yard clay lies Erin's generous Chief,
The Gael's bright flower, this hour of bitter grief,
The trusty hand who ne'er forsook the right,
Leaves Eire's land in danger, dark as night.
---
2
Two Sisters
This song is the tenth of the 305 English and Scottish ballads collected by Francis J Child, and published in five volumes over a sixteen year period at the end of the 19th century. Child found several versions of this song from a number of countries, though all involve the murder of one sister by another over a suitor.
The form of the ballad is simple and repetitive. Each verse has two main lines, that essentially describe "cause" and "effect", for want of better terms. The "cause" line is repeated three times, the "effect" line only once. Chorus lines that are identical in each verse are sung after each of the main lines. In the lyrics below, I give the first verse in its entirety, with the chorus lines in italics. Thereafter, I give only the "cause" and "effect" lines.
There were two sisters side-by-side,
Sing I down, sing I day!
There were two sisters side-by-side,
The boys are bound for me.
There were two sisters side-by-side,
The eldest for young Johnny cried.
I'll be true unto my love, if you'll be true to me.
Johnny bought the youngest a gay gold ring,
He never bought the eldest a single thing.
Johnny bought the youngest a beaver hat,
The eldest didn't think much of that.
As they were a-walking by the bonny brim,
The eldest pushed the youngest in.
Sister, O Sister give me thy hand,
And you can have Johnny and all his land.
Sister I'll not give you my hand,
And I'll have Johnny and all his land.
So away she sank and away she swum,
Until she came to the miller's dam.
The miller's son took her gay gold ring,
And then he pushed her in again.
The miller's son was hanged on the mountain pass,
The eldest sister was boiled in lead.
Clannad's version is not among those collected in the Child Ballads, and is somewhat abridged. In one variation the suitor is a knight, while in others he is a landowner. In many versions it is the miller who murders the younger daughter, and in one the miller is the girl's own father. The punishment of the eldest sister also varies, and includes banishment, hanging, and dismemberment by horses, according to the tastes and sensibilities of the audience. For other versions of this song, and information on Francis Child and the Child Ballads, visit Lesley Nelson's site on the Francis J. Child Ballads.
---
3 Rise Up, My Darling
(English translation by Hudie Devaney)

Rise up, my darling, if you're still in bed lying;
Open the door that I might come and recline.
By my side I've a bottle that I've brought for your mother,
And I hope she'll allow it that you shall be mine.

When I rise in the morning and look o'er the path-way,
And I look at the place where I'll spend the long day,
The tears fall in streams down my two cheeks like rain,
And many's the time I sigh for that maid.

In the thick wooded glen I live there in sorrow,
From Sunday to Sunday, spending time on my own.
The coming and going I watch o'er the road-way,
And nothing in this wide world will lift up my load.

It's great for the birds that rise up every morning
and roost with each other on the same bush or spray,
But that's not how it is for both me and my true-love,
For it's far from each other that we rise every day.
---
4 Arise and Dress Yourself
(English translation by Conal O'Donnell)

Arise an' go 'n' put on your clothes
That I myself may trim your hair;
To the Bishop of Erne, we'll go before him
That you and I may become a pair.
I have got a love but I long for you -
Fly away with me, my pride and joy;
Only a fool and a senseless person
Would try to separate us, girl from boy.

I've put my heart upon our marriage,
And on all the young men of the world,
For wouldn't a girl be better for them
Than a woman with plenty of gold
On one of those long nights in the winter.
'Twould be nice to be hugging her tight
Than down beside some snoring old hag,
Pulling the blankets around at night.

Additional verses not sung in Clannad's version:

Tuesday was the day that we married;
I wished it had not come so soon.
From my own people I'd taken advice,
For that was what caused my undoing:
Though true in the end I was married
To a woman with not even a smile,
And there wasn't a girl in the valley
With whom I would not chat awhile.

When to Mass I go on a Sunday,
The young men to me they will say,
"Cormack, is it true that you're married?
"D'you feel your youth slipped away?"
I speak, and it's this that I tell them:
"O indeed, it is true what I say,
"And all those among you that didn't get wed,
"You can sport through the world as you may."

But I'll get a hat, and a pair of boots,
And I will get back my youth again,
And I will go down to Glendowan
Where women in plenty do reign,
Till I find the young girl that will suit me just right,
Who'll neatly walk up the country roads -
And would that I'd rather have all the big girls,
Than Glendowan's old hag and her cows.
---
5
Shule Aroon
I wish I were on yonder hill
'Tis there I'd sit and cry my fill,
And ev'ry tear would turn a mill.
Chorus:
Is go dee tu mavourneen slaun.
Shule, shule, shule aroon,
Shule go suckir agus shule go cune,
Shule go deen durus agus eilig lume,
Is go dee tu mavourneen slaun.

Translation:
And safe for aye, my darling be.
Come, come, come oh love,
Come quickly and come softly;
Come to the door and away we'll go,
And safe for aye, my darling be.
I'll sell my rock, I'll sell my reel,
I'll sell my only spinning wheel,
To buy for my love a sword of steel.

Chorus

I'll dye my petticoats, I'll dye them red,
And round the world I'll beg my bread,
Until my parents shall wish me dead.

Chorus

I wish, I wish, I wish in vain,
I wish I had my heart again,
And vainly think I'd not complain.

Chorus

But now my love has gone to France,
To try his fortune to advance;
If he e'er come back, 'tis but a chance.
---